In the summer, NYC seems to empty out, people just like to escape.  Work madness dies down a wee bit and the New York minute gains a few seconds.  I've definitely posted on healthy traveling tips before—including tips from fellow bloggers, but every summer, I like to revisit the topic, certainly a worthy one. 
When it comes to diet, I don't worry too much.  As a child, I always lost weight on vacation because my dad was always running around from activity to activity not wanting to waste precious time and money on food.  Nowadays, dining is part of my vacation experience, but I feel fairly confident that I can factor in a splurge meal and an ice cream daily due to the sheer fact that I am moving more and sitting at a desk less.   Breakfast and lunch I try to keep a bit lighter and more simple to stay energized through the day, but without stressing much. That's just me, to each their own.  I am not talking about food today, I am talking about…
Fitness–an area where I feel more comfortable debating different approaches to vacation.
I know there are a few camps.  Camp Relax might say, it's vacation, diet and exercise can take a week off too—and that's totally fine.  Camp Habit might feel like their day is not complete without their daily workout and with multiple trips per summer, too many days off can add up. Camp Incorporate might say, I don't plan to go to the gym, but I'd like to naturally do activities during my vacation that involve exercise—hiking, biking, swimming, surfing, etc.    I am generally a cross between the later two camps as I just like the feeling of a daily workout, but don't necessarily want to spend my vacation in a gym.
Honestly, a trip to a fitness resort, health spa or yoga retreat on the beach is kind of my dream in life, but I am not sure my travel partner(s) are ready to commit to that quite yet.
Camp Incorporate
In Cape Cod I do a fair amount of running.  On the Vineyard, I like to bike. 
In fact, last summer the boy and I did a 40 mile bike that seemed mostly uphill and almost killed us!
But it's a great ride with so many great stops along the way, Menemsha, Gayhead, the Alley's General Store, just to name a few.  I won't lie, there were so many hills that I almost burst into tears at one point, but making a bee-line to Ben and Bills Chocolate Emporium immediately after returning our bikes made it all worth it!  A slightly less demanding ride to South Beach and back is in order for our next trip!
I think biking is a really great way to exercise while seeing the sights, and bike rentals are generally really affordable.
In my research, several places recommended biking in Alsace, France as a top fitness vacation.  Looks nice to me!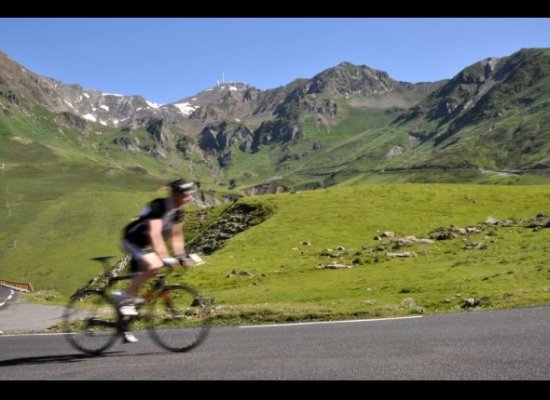 Hiking  is another fun way to combine fitness and pleasure.  In fact, I find it a great NYC day trip.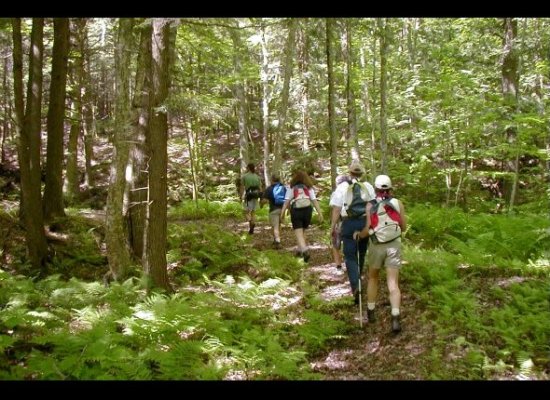 When I think of dream hikes, generally the Grand Canyon, Peru and Redwood Forest come to mind, but the Top 100 Trails actually include plenty of hikes in the Northeast, in fact, I've done a few!  The photo above is Vermont!
Camp Habit
I can definitely appreciate those who don't like to break their fitness routine, the body just feels better after a workout and swimsuit confidence skyrockets—at least in my case.
If I summered in the Hamptons, my fitness life would be ridiculously simple—they have everything. Physique, Core Fusion, Flywheel, and so much more, just check out the Well and Good Guide!  Add in some runs along the beach, life in the Hampton's is like life in the city with less work and more sand.  Can we please arrange a blogger weekend in the Hamptons just to try all the classes and tan on the beach—Dori I am talking to you amongst others?
For the gym folks, let's talk.  Check out some of the best hotel gyms in the world, according to Travel and Leisure and Fitsugar. 
I'd like to mention a major pet peeve: hotels that charge extra for their gym.  I don't care how nice your gym is, if I am paying $300 plus a night, the gym should be free.  Oddly, I've never been to a cheap hotel that charged for the gym, it's only the expensive ones.  While I pick outdoor activity when possible, I never mind doing a quick workout in the hotel gym if that gets my workout in and my schedule back to sightseeing and exploring.
Here's how it's worked for me in the past:
In Aruba, I took the do as little as possible approach.  I did stop in the nice gym at the Westin quite a few times and I took a water aerobics class, but that was balanced out by a hell of a lot of time lounging at the pool.
In South Africa, I joined the Virgin gym and formed a running group with fellow students, but that wasn't really a vacation—but it proves you can find fitness absolutely anywhere no matter how little you know about the place.
On the cruise, we did the gym, a spinning class, some running and some snorkeling—it was necessary since cruising involves a LOT of eating.
On my brief to Boston getting a reader tip to check out Backbay Yoga was incredible!
This summer, I am still thinking about how to balance fitness and fun, but since I will be training for half and full marathons, I'd say running is a safe bet!  In fact, I am really looking forward to running along Lake Michigan in Chicago in a few weeks!
I head to Chapel Hill next week, if you have any tips for running routes or healthy eats, hit me up!