I know I am posting a lot about food lately, but one of my Ask Anything questions was:
"what are good vegan restaurants in the city?"
I have posted about my favorite restaurants and healthy restaurants (mainly ones focused soley on places that cater to vegetarian and vegan preferences), but here is an updated list that includes all of my favorite vegan and vegetarian places, as well as places that have an abundance of veggie options even if they are not strictly V.  That said, restaurants in the city are typically more than willing to prepare foods to your taste and ethics, so I find that most of my favorite restaurants are not soley veggie, but have at least a few stunning veg-friendly options.
My Favorite Budget Friendly Finds:
Most of these places you can grab a meal for $12 or less, especially if you stick with specials and opt for tap water or have your Sigg in tow.  *
Taim—one of Gweynth Paltrow's favorites.  A small, hole in the wall with a menu of delicious middle eastern salads and interesting smoothies.
Snice—best panini ever!
Bonobos—raw, vegan, affordable with a side of granola.  What's not to love?  The coconut chai has many devotees. This picture is from Gena's blog, clearly she's a fan.
Angelica Cafe—the standard for vegan restaurants.  The menu offers simply prepared foods and mouthwatering specials.  Don't leave without trying the cornbread!
Kashkaval—probably one of my favorite spots in the city.  Simple small plates, affordable wine.  Everyone I bring becomes addicted—no joke.  Another bonus, your meat loving male friends won't even notice there are almost no meat options on the whole menu!
Little Atlas-great for a light lunch on the run.
Atlas—a bigger version with LOTS of seemingly sinful vegan desserts
Caravan of Dreams—has both raw and cooked vegan options, an abundant salad selection, and a generous dash of cruchiness, but prices and flavor that will have you coming back for more.  Bonus: it's where I met Gena for the first time!
Dojo's-dirt cheap and not bad for a quick bite.  Don't miss the carrot dressing!
7A-super cheap with a variety of vegan and vegetarian options.  Great brunch menu. My Dad is beyond obsessed with this place!
PB and Co.—the vegan option with many a gourmet twist.
Maoz Vegetarian—I just love to get the salad box and load up on pickled cabbage, gingery carrots, sauteed broccoli and cauliflower and a host of other yummy delights.  While I usually skip the falafel.  The warm, thick whole wheat pita is my favorite in the city. Of course an international fast food chain from Holland would be healthy!
Pita Grill-lots of yummy options
Benvenuto-my favorite place to toss a salad.  For around $8 you can pick 7 toppings to add to your greens!
Bamboleo—I love the steamed vegetable whole wheat burrito.  If you're having a rough day at work, stop in for their awesome margarita lunch special.  Who says vegetarians can't drink? Ole!
Cosmic Cantina-a little on the greasy side, but yay organic mexican
NY Dosa—cheap, cleanly prepared and startlingly famous
Baoguette—these sandwiches are becoming more and more popular—NYMag and Time Out both rave.  The sandwiches can only be described as toothsome. The new vegetarian sandwich is divine piled with all kinds of pickled vegetables and your choice of spice intensity.  This is probably my faux meat exception, but they also have a catfish available for pestarians.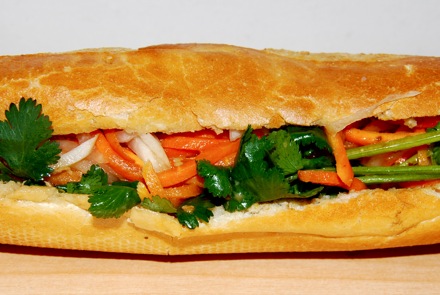 Great Jones Spa and Juice Bar—huge juice selection and lots of light and energizing sammies and salads in a very zen local.
Liquiteria—my favorite juice bar.  great baked goods and some sandwich options as well.  Their norwalk pressed juice is like an IV of health into my system, but the $8.50 price tag keeps me away more than I would like!
Hummus Place—this chain has quite the following and numerous locations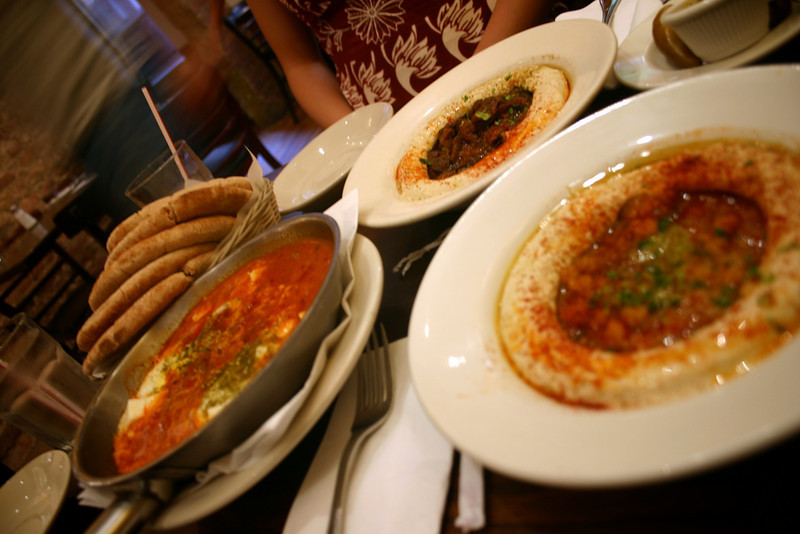 Nanoosh—great hummus place with a larger menu and great soups. I wish there was one downtown!
Upscale Venues
These places are generally $20 or more for a meal, but certainly worth it on special occasions!  If you want a more frequent mini splurge, I find it helpful to order a big salad as an entree and split an appetizer and dessert or to make a meal out of appetizers and sides to keep my budget in check—as long as the appetizers aren't fried, it's usually a healthy option as well.  Whether you are trying to save or not, make sharing your best friend; I find there is always more than enough food and it's fun to try a lot of courses.
Pure Food and Wine—my one and only.  I have never left this place not feeling more energized and refreshed, even when I am stuffed to the gills with the classic raw sundae!
Quintessence-I have always been impressed with the yummy raw offerings at the original nyc raw restaurant
Gobo-simple and clean
Hangawai-if you are an Asian food fan, this is your place for food and a dining experience, wear matching socks because you will have to take off your shoes.
WISH LIST
Places I want to try
Vegetarian Tasting at Per Se or Daniel—that won't happen any time soon! However, I should mention that O stopped into Per Se a few weeks ago after having drinks at Clo Bar, they can meet any dietary requirements you have if you request again, gluten free, vegan, etc.
I realize there are many many places I left off the list.  I had a huge debate about Candle 79, for some reason it has never been a favorite of mine, but it is one of few upscale vegan places, so it is hard to leave it off the list.  It is Paul McCartney's favorite restaurant for goodness sake.  So I will qualify by saying that these are just my top picks.There are places I left off the list because I am not a huge fan—Counter—but there are also just too many places to list and plenty of places I don't even know about!  However, all of the above have my stamp of approval.  Just fyi, I am not a big fake meat or soy fan, so most of these places were selected for the beauty they bring out in whole grains and fresh produce.  However, there a host of places that provide mock meat dishes that impress even the most carnivorous. So if that is what you are looking for, places like Kate's Joint, Village Natural and Red Bamboo are hugely popular in the city.  Just fyi, I consider ambience, service, and cost into the equation, but taste is my main concern–obvi.